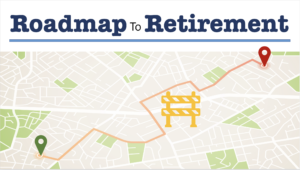 Takeaway: Timing is everything.
Has your timing ever been off? Maybe you've been driving and hit every red light on a stretch of road?
That's typically me on my way home from work. I either make most of the lights or have to stop at every… single… one…
Bad timing at traffic lights and railroad crossings might be an inconvenience but bad timing in your retirement could pose major issues.
When you are still working, market pullbacks will often have a (comparatively speaking) minor impact on retirement savings strategies because savers can simply wait for the market to recover.
That same market pullback may pose a major challenge when withdrawing money from certain retirement assets. Why? When withdrawals are used for purchases, that money is no longer in the account waiting for the market to recover.
The point? The Sequence of Returns (or the order and timing of market pullbacks when you're in retirement) can have a dramatic impact on the longevity of your financial plan.
Take a look at the following information about Bill and Jill. They both saved $1 million for their retirement and are taking $40,000 out a year (increasing by 3% a year to adjust for inflation). The only difference between the two is WHEN they chose to start their retirement. Bill starts in 1996 (with a few positive years before the first market pullback), and Jill starts in 1999 (with little time before her first market pullbacks in retirement).
See the difference?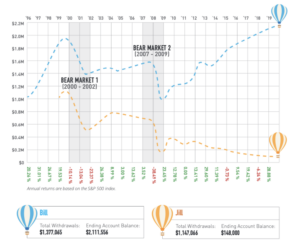 While Bill and Jill have done a nice job saving for retirement, neither of them could have predicted when a pullback would take place, nor the impact those pullbacks would have.
ACTION ITEM
How is your money protected against the effects of bad timing? Would the sequence of returns harm your financial plan and it's longevity?
Let's talk about potential solutions to that problem!
To get started on your Roadmap to Retirement, request an appointment by calling our team at (877) 313-4080 or going online at www.equity1inc.com/contact.
Fee-based planning and investment advisory services are offered by Rauch Advisory LLC, a Registered Investment Advisor in the state of Virginia. Insurance products and services are offered through Equity 1 Inc. Rauch Advisory LLC and Equity1 are non-affiliated companies.
Home Office:
1407 Stephanie Way
Suite C
Chesapeake, VA 23320
Richmond Office
Regus Offices – West End
3900 Westerre Parkway
Building 3, Suite 300
Richmond, VA 23233
Newport News Office
Regus Offices – City Center at Oyster Point
11815 Fountain Way, Suite 300
Newport News, VA 23606
Phone:
Phone: 757-313-4080
Toll Free: 877-313-4080
Fax: 757-313-4083