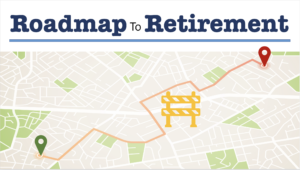 Takeaway: Making money last
While progressing along in your retirement journey, it's critical not to drain your retirement tank too quickly.
Which naturally raises an important question: how much should you withdraw from your retirement accounts to cover your needs now AND ensure you don't run out of money in retirement?
In the 1990s, economists theorized that taking 4% of your initial savings (adjusted for inflation) was safe, giving you a high probability of making your money last in retirement (personally, I'd rather be surer than that).
However, much of that research was premised on higher interest rates, compared to today's historically low rates and bond yields. Various experts now insist that a lower withdrawal rate may be necessary to help ensure the sustainability of a retirement nest egg.[1]
Lower withdrawal rates require retirement nest eggs to be much larger to generate the same level of retirement income. Consider the assets required to generate $40,000 a year in income: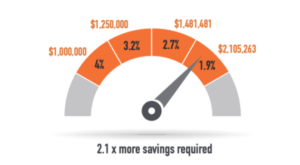 There are various financial and insurance strategies that, when combined, can help generate sustainable levels of retirement income. The key is to focus on income-oriented solutions that you may not have previously considered when you were saving for retirement.
ACTION ITEM:
Multiply your current portfolio by a more conservative withdrawal rate: 3.2%, 2.7%, or 1.9%. What is your retirement income level at those percentages?
Let's talk about how withdrawal rate risk could impact your retirement goals and make sure you have the retirement income you need!
To get started on your Roadmap to Retirement, request an appointment by calling our team at (877) 313-4080 or going online at www.equity1inc.com/contact.
[1] David Blanchett, Michael Finke, Phd., Wade Pfau, Ph.D., Morningstar Investment Management, "Low Bond Yields and Safe Portfolio Withdrawal Rates," January 2013
Fee-based planning and investment advisory services are offered by Rauch Advisory LLC, a Registered Investment Advisor in the state of Virginia. Insurance products and services are offered through Equity 1 Inc. Rauch Advisory LLC and Equity1 are non-affiliated companies.
Home Office:
1407 Stephanie Way
Suite C
Chesapeake, VA 23320
Richmond Office
Regus Offices – West End
3900 Westerre Parkway
Building 3, Suite 300
Richmond, VA 23233
Newport News Office
Regus Offices – City Center at Oyster Point
11815 Fountain Way, Suite 300
Newport News, VA 23606
Phone:
Phone: 757-313-4080
Toll Free: 877-313-4080
Fax: 757-313-4083