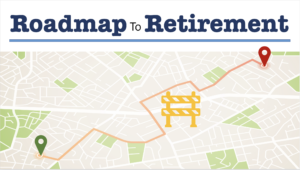 Takeaway: You need a retirement goal (and a plan)
Have you ever decided to take a vacation and just got in your car and started driving, without knowing where you were going?
Probably not, right? Unless you are ULTRA-spontaneous, you probably sat down and thought about where you wanted to go, how you were going to get there, and what you would do at the destination.
In other words, you planned the trip.
You considered your objectives, the resources you had available, and how you would make the trip happen.
It's curious, then, that while most people look forward to and take the time planning for vacation, the vast majority of Americans don't take the time to truly plan their retirement. If that's you, you're not alone!
Most people struggle to plan for retirement: considering what they want to do, the resources they have to accomplish it, and the potential obstacles that could stop them from reaching your destination.
Retirement doesn't have to be complicated.
You need the right information and The Right Financial Plan for You so you can live and give with confidence and peace of mind.
Over the next 7 weeks, we are going to explore the 7 RETIREMENT ROADBLOCKS that often get in the way of people enjoying their retirement due to money problems. But for now, take a few minutes to complete the action item below.
ACTION ITEM:
Think about what you want your retirement to look like…
Do you want to travel?
Do you want to find a new place to call home?
Do you want the freedom to do a favorite activity or begin a new hobby?
Do you want to use your free time to serve at your church or volunteer with a charity?
I recommend writing them in a journal or notebook. That way, as we continue developing your Retirement Roadmap, you remember what your dream destination looks like and can make plans to help you make wonderful memories during your lifetime.
Remember, just because you retire from your job doesn't mean you stop living (we'll talk about that more later)!
To get started on your Roadmap to Retirement, request an appointment by calling our team at (877) 313-4080 or visiting us online at www.equity1inc.com/contact.
Home Office:
1407 Stephanie Way
Suite C
Chesapeake, VA 23320
Richmond Office
Regus Offices – West End
3900 Westerre Parkway
Building 3, Suite 300
Richmond, VA 23233
Newport News Office
Regus Offices – City Center at Oyster Point
11815 Fountain Way, Suite 300
Newport News, VA 23606
Phone:
Phone: 757-313-4080
Toll Free: 877-313-4080
Fax: 757-313-4083